POOLSIDE
Wet Republic
P-Diddy's favorite pool party - and why not? Make your entrance on the " blue carpet" and party with the sexiest celebrities in the world.
The Ultra Pool at the MGM Grand is the place to play on those sweltering summer days in Vegas.
In a world of wet indulgence Wet Republic sparkles, sizzles, and shines.
Dress Code: Upscale pool attire.
Rehab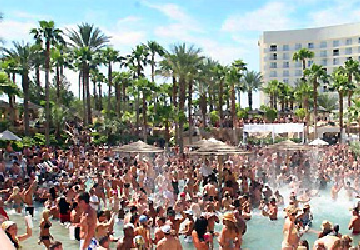 Everyone knows that some of the best partying in Las Vegas happens daytime poolside. And the ultimate Vegas pool party? The Hard Rock Hotel & Casino invented it with Rehab. The once intimate poolside party has grown into a destination with weekend revelers in the thousands.
Get ready for Rock Star Lemonades, world famous DJs, celebrity guests and the best time you'll have in Vegas. The beautiful, the tattooed, the rich, the famous, large and small; everyone gets down at Rehab. Come on in, the water is fine!
Dress Code: Upscale pool attire.
Encore Beach Club
Steve Wynn and Sean Christie set the new standard for beach parties when they opened Encore.
SUNDAYS - "Encore Beach-Play in International Waters." Showcasing chart-topping, world-renowned electronic music artists.
MONDAYS - "Industry Beach" caters to the hardworking and fun loving service industry crowd looking to let loose and unwind in style.
THURSDAYS - "EBC at Night: Dip and Dance" is a weekly nighttime pool party, commencing on Thursday May 16th! Revelers can enjoy the pool under the moonlight.
FRIDAYS - "Recess Fridays" is a weekly series of original themed party promotions.
SATURDAYS - Live performances by headlining DJs and pop culture events.
Dress Code: Upscale pool attire.
Tao Beach
Yin AND Yang. Party or relax.
Catering to both the sinner and the saint TAO Beach has what you are looking for. From rocking parties with the best DJ's to quiet oases where relaxation is artform.
Tao has an ordained reverend on hand should you need to confess your sins or tie the knot. The luxury oasis known as Tao Beach is steeped in mystery and exotic elegance.
This year introducing Beatport Beach Party Sundays presented by Insomniac. End a spectacular weekend or begin your Vegas getaway at Tao Beach.
Dress Code: Upscale pool attire.
Sapphire Pool & Dayclub
Sapphire now offers the best of both worlds. Now you can party with Vegas' hottest entertainers during the night at the "World's Largest Gentlemen's Club" and now during the day at the brand new Sapphire Pool and Day Club.
Sapphire is now open and offering a full complement of summer guest DJs and special events. Call 702.807-8421 or speak directly to your King of Club Las Vegas Host to make your reservations!
Dress Code: Upscale pool attire.
Moorea Beach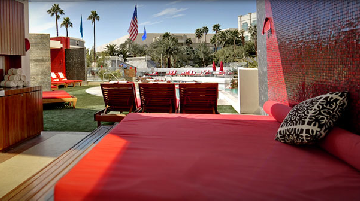 Moorea Beach Club provides a private, sophisticated European bathing experience. Enjoy Daylife with fantastic views of the Toptional™ beach, cushioned chaise lounges, poolside massage services and the most attentive personal attendants in Las Vegas.
Moorea features day beds, opium beds and pavilions available for a daily fee. Rental fees do not include club admission. Guests must be 21 years or over to enjoy the Moorea experience.
Drai's Night Club and Beach Club
Memorial weekend 2014 brings back one of our favorites; the opening of the previously named Barbary Coast/Bill Gambling Hall (Depending on how far back you can go), will open under the name Cromwell Hotel And Casino. This will welcome Drai's Beach Club. This Stunning new 65,000 square foot, day and night experience perched high atop the Strip's first stand-alone boutique hotel and casino in the heart of Las Vegas is going to be amazing. This will be quite the spot this summer!